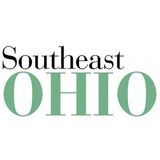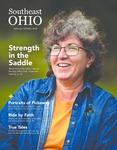 Publication Date
Winter 2019
Description
[Note: the cover of the Winter/Spring 2019 issue is labeled as Winter/Spring 2018.]
Table of contents:
Portraits of Pickaway
The murals in Pickaway County tell stories of the county's centuries-old history. The community's support of local art promotes pride and tourism ... 4
Locavore Delight
Triple Nickel Diner in Chesterhill keeps its meals real ... 8
Teas, Treats and Tasty Eats
Jackson's Michael's Ice Cream and The Tea Caddy caters to tastes galore ... 10
Pomeroy's Brew Crew
The Maple Lawn Brewery taps into the area's assets ... 12
A Sweet Legacy
Circleville's Lindsey's Bakery is one delightful story ... 14
Scoby-do!
A local kombucha business gets fizzy with it ... 15
Martins Ferry's Toy Story
To kids and adults alike, this Belmont County mainstay is a three-story joy ... 16
Compassion for Comfort
Meigs County women blanket children with personalized quilts ... 18
Motive to Mentor
This stylishly caffeinated Chillicothe business follows a social-good company model ... 20
In Land They Trust
SuBAMUH safe space broadens its horizons ... 22
Raising the Roof
Ludowici Roof Tile brings global consumers to Perry County ... 23
Piketon's Poison Problem
Pike County residents question the Department of Energy's plans ... 24
Sisters in Arms
A regional group strives to educate women about guns and personal defense ... 25
True Tales
Experience the local lore on the Marietta Trolley Tour ... 26
Strength in the Saddle
Linda Lake's equine therapy offers help, hope and healing ... 32
A Fair Shot
The often debated world of youth travel sports ... 36
Ride by Faith
A Zanesville church welcomes motorcyclists for worship ... 40
A Journey for Support
Meet Eli Smith ... 46
Creative Commons License


This work is licensed under a Creative Commons Attribution-NonCommercial-No Derivative Works 4.0 International License.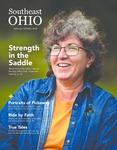 COinS