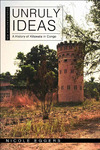 Series
New African Histories
Description
Original oral and ethnographic sources inform this conceptual history of power in central Africa, imagined through the lens of Kitawala religious practices.
Unruly Ideas: A History of Kitawala in Congo recounts the multifaceted history of the Congolese religious movement Kitawala from its colonial beginnings in the 1920s through its continued practice in some of the most conflict-riven parts of the eastern Democratic Republic of Congo today. Drawing on a rich body of original oral, ethnographic, and archival research, Nicole Eggers uses Kitawala as a lens through which to address the complex relationship between politics, religion, healing, and violence in central African history.
Kitawala, which has roots in the African Watchtower (Jehovah's Witness) movement, has long been viewed both by scholars and by popular historians as a form of male-dominated, anticolonial insurgency. But just as Kitawalists were never exclusively male, their teachings and activities were never directed solely at the Belgian colonial state, and their yearnings for self-rule were never entirely about the secular realms of authority. A more comprehensive look at the oral and archival evidence reveals they were and are concerned with the morality of power more broadly: on state, communal, and individual levels. Moreover, Kitawalist doctrine is itself unruly, and its preachers, prophets, and practitioners have articulated innumerable interpretations—most quite different from Watchtower Christianity—across space and time.
More than a case study of a particular religious movement, Unruly Ideas is a conceptual history of power that investigates how communities and individuals in the region have historically imagined power, sought to access it, wielded it, and policed the morality of its uses. By focusing on power and its intellectual and social history in Congo, Unruly Ideas creates an analytical space in which readers can understand the differing manifestations of Kitawala—from its overtly political and sometimes violent moments to those more aptly characterized as individual quests for spiritual and physical therapy—as varying themes in the same story: the pursuit of wellness in the context of malady.
On a more practical level, the book raises important questions about the project of writing histories of places like eastern Congo: a region where the repercussions of decades of political neglect, upheaval, and violence force us to reconsider how we can think about and use oral and archival sources. Finally, the book investigates the embodied and gendered nature of field research and interrogates the intersubjective and reciprocal nature of knowledge production.
Publisher
Ohio University Press
Keywords
Kitawala, Democratic Republic of Congo, Conceptual History, African religion, Jehovah's Witness, Watchtower Christianity, Healing, Violence, gender, African Intellectual History, colonial incarceration, prisons, decolonization, oral history, Belgian colonies in Africa
Disciplines
African History | African Studies | Religious Thought, Theology and Philosophy of Religion | Social and Behavioral Sciences
Creative Commons License


This work is licensed under a Creative Commons Attribution-NonCommercial-No Derivative Works 4.0 International License.
Recommended Citation
Eggers, Nicole, "Unruly Ideas: A History of Kitawala in Congo" (2023). Ohio University Press Open Access Books. 25.
https://ohioopen.library.ohio.edu/oupress/25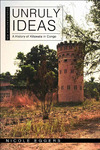 COinS