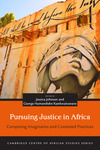 Series
Cambridge Centre of African Studies Series
Description
Pursuing Justice in Africa focuses on the many actors pursuing many visions of justice across the African continent—their aspirations, divergent practices, and articulations of international and vernacular idioms of justice. The essays selected by editors Jessica Johnson and George Hamandishe Karekwaivanane engage with topics at the cutting edge of contemporary scholarship across a wide range of disciplines. These include activism, land tenure, international legal institutions, and postconflict reconciliation.
Building on recent work in sociolegal studies that foregrounds justice over and above concepts such as human rights and legal pluralism, the contributors grapple with alternative approaches to the concept of justice and its relationships with law, morality, and rights. While the chapters are grounded in local experiences, they also attend to the ways in which national and international actors and processes influence, for better or worse, local experiences and understandings of justice. The result is a timely and original addition to scholarship on a topic of major scholarly and pragmatic interest.
Contributors: Felicitas Becker, Jonathon L. Earle, Patrick Hoenig, Stacey Hynd, Fred Nyongesa Ikanda, Ngeyi Ruth Kanyongolo, Anna Macdonald, Bernadette Malunga, Alan Msosa, Benson A. Mulemi, Holly Porter, Duncan Scott, Olaf Zenker.
Publisher
Ohio University Press
Keywords
justice, sociolegal studies, human rights, reconciliation
Disciplines
Political Science
Creative Commons License


This work is licensed under a Creative Commons Attribution-NonCommercial-No Derivative Works 4.0 International License.
Recommended Citation
Johnson, Jessica and Karekwaivanane, George Hamandishe, "Pursuing Justice in Africa: Competing Imaginaries and Contested Practices" (2018). Ohio University Press Open Access Books. 23.
https://ohioopen.library.ohio.edu/oupress/23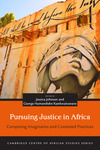 Included in
COinS