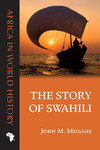 Series
Africa in World History
Description
Swahili was once an obscure dialect of an East African Bantu language. Today more than one hundred million people use it: Swahili is to eastern and central Africa what English is to the world. From its embrace in the 1960s by the black freedom movement in the United States to its adoption in 2004 as the African Union's official language, Swahili has become a truly international language. How this came about and why, of all African languages, it happened only to Swahili is the story that John M. Mugane sets out to explore.
The remarkable adaptability of Swahili has allowed Africans and others to tailor the language to their needs, extending its influence far beyond its place of origin. Its symbolic as well as its practical power has evolved from its status as a language of contact among diverse cultures, even as it embodies the history of communities in eastern and central Africa and throughout the Indian Ocean world.
The Story of Swahili calls for a reevaluation of the widespread assumption that cultural superiority, military conquest, and economic dominance determine a language's prosperity. This sweeping history gives a vibrant, living language its due, highlighting its nimbleness from its beginnings to its place today in the fast-changing world of global communication.
Publisher
Ohio University Press
Keywords
Swahili language, Swahili-speaking people
Disciplines
African History | African Languages and Societies
Creative Commons License


This work is licensed under a Creative Commons Attribution-NonCommercial-No Derivative Works 4.0 International License.
Recommended Citation
Mugane, John M., "The Story of Swahili" (2015). Ohio University Press Open Access Books. 20.
https://ohioopen.library.ohio.edu/oupress/20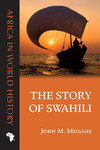 COinS