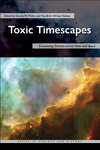 Series
Series in Ecology and History
Description
An interdisciplinary environmental humanities volume that explores human-environment relationships on our permanently polluted planet.
While toxicity and pollution are ever present in modern daily life, politicians, juridical systems, media outlets, scholars, and the public alike show great difficulty in detecting, defining, monitoring, or generally coming to terms with them. This volume's contributors argue that the source of this difficulty lies in the struggle to make sense of the intersecting temporal and spatial scales working on the human and more-than-human body, while continuing to acknowledge race, class, and gender in terms of global environmental justice and social inequality.
The term toxic timescapes refers to this intricate intersectionality of time, space, and bodies in relation to toxic exposure. As a tool of analysis, it unpacks linear understandings of time and explores how harmful substances permeate temporal and physical space as both event and process. It equips scholars with new ways of creating data and conceptualizing the past, present, and future presence and possible effects of harmful substances and provides a theoretical framework for new environmental narratives. To think in terms of toxic timescapes is to radically shift our understanding of toxicants in the complex web of life.
Toxicity, pollution, and modes of exposure are never static; therefore, dose, timing, velocity, mixture, frequency, and chronology matter as much as the geographic location and societal position of those exposed. Together, these factors create a specific toxic timescape that lies at the heart of each contributor's narrative. Contributors from the disciplines of history, human geography, science and technology studies, philosophy, and political ecology come together to demonstrate the complex reality of a toxic existence. Their case studies span the globe as they observe the intersection of multiple times and spaces at such diverse locations as former battlefields in Vietnam, aging nuclear-weapon storage facilities in Greenland, waste deposits in southern Italy, chemical facilities along the Gulf of Mexico, and coral-breeding laboratories across the world.
Publisher
Ohio University Press
Keywords
environmental humanities, pollution, anthropocene, political ecology, STS, science technology studies, East Palestine, PFAs, water pollution, air pollution, chemical spills
Disciplines
Human Ecology | Human Geography
Creative Commons License


This work is licensed under a Creative Commons Attribution-NonCommercial-No Derivative Works 4.0 International License.
Recommended Citation
Müller, Simone M. and Nielsen, May-Brith Ohman, "Toxic Timescapes: Examining Toxicity across Time and Space" (2023). Ohio University Press Open Access Books. 19.
https://ohioopen.library.ohio.edu/oupress/19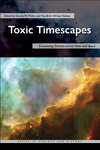 Included in
COinS