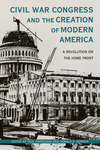 Series
Perspectives on the History of Congress, 1801–1877
Description
Most literature on the Civil War focuses on soldiers, battles, and politics. But for every soldier in the United States Army, there were nine civilians at home. The war affected those left on the home front in many ways. Westward expansion and land ownership increased. The draft disrupted families while a shortage of male workers created opportunities for women that were previously unknown.
The war also enlarged the national government in ways unimagined before 1861. The Homestead Act, the Land Grant College Act, civil rights legislation, the use of paper currency, and creation of the Internal Revenue Service to collect taxes to pay for the war all illustrate how the war fundamentally, and permanently, changed the nation.
The essays in this book, drawn from a wide range of historical expertise and approaching the topic from a variety of angles, explore the changes in life at home that led to a revolution in American society and set the stage for the making of modern America.
Contributors: Jean H. Baker, Jenny Bourne, Paul Finkelman, Guy Gugliotta, Daniel W. Stowell, Peter Wallenstein, Jennifer L. Weber.
Publisher
Ohio University Press
Keywords
United States Congress, civilians, civil war, social change
Disciplines
Legal History | United States History
Creative Commons License


This work is licensed under a Creative Commons Attribution-NonCommercial-No Derivative Works 4.0 International License.
Recommended Citation
Finkelman, Paul and Kennon, Donald R., "Civil War Congress and the Creation of Modern America: A Revolution on the Home Front" (2018). Ohio University Press Open Access Books. 14.
https://ohioopen.library.ohio.edu/oupress/14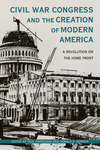 Included in
COinS