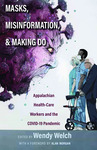 Description
The firsthand pandemic experiences of rural health-care providers—who were already burdened when COVID-19 hit—raise questions about the future of public health and health-care delivery.
This volume comprises the COVID-19 pandemic experiences of Appalachian health-care workers, including frontline providers, administrators, and educators. The combined narrative reveals how governmental and corporate policies exacerbated the region's injustices, stymied response efforts, and increased the death toll.
Beginning with an overview of the SARS-CoV-2 virus and its impact on the body, the essays in the book's first section provide background material and contextualize the subsequent explosion of telemedicine, the pandemic's impact on medical education, and its relationship to systemic racism and related disparities in mental health treatment.
First-person narratives from diverse perspectives recount the pandemic's layered stresses. These visceral, personal experiences of how Appalachian health-care workers responded to the pandemic amid the nation's deeply polarized political discourse will shape the historical record of this "unprecedented time" and provide a glimpse into the future of rural medicine.
Contributors: Lucas Aidukaitis, Clay Anderson, Tammy Bannister, Alli Delp, Lynn Elliott, Monika Holbein, Laura Hungerford, Nikki King, Brittany Landore, Jeffrey J. LeBoeuf, Sojourner Nightingale, Beth O'Connor, Rakesh Patel, Mildred E. Perreault, Melanie B. Richards, Tara Smith, Kathy Osborne Still, Darla Timbo, Kathy Hsu Wibberly
Publisher
Ohio University Press
Keywords
public health, healthcare workers, first responders, rural health, rural medicine, graduate medical education, rural health disparities, social determinants of health, first-person healthcare stories, vaccine hesitancy, medical mistrust, nursing burnout
Disciplines
Immunology and Infectious Disease | Public Health
Creative Commons License


This work is licensed under a Creative Commons Attribution-NonCommercial-No Derivative Works 4.0 International License.
Recommended Citation
Welch, Wendy, "Masks, Misinformation, and Making Do: Appalachian Health-Care Workers and the COVID-19 Pandemic" (2023). Ohio University Press Open Access Books. 11.
https://ohioopen.library.ohio.edu/oupress/11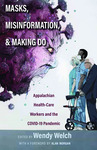 COinS