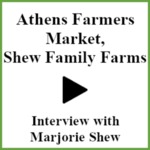 Interviewee
Marjorie Shew
Description
Member of the Athens Farmers Market since1984, Marjie Shew of Shew Family Farms, now known as Shew's Grassfed Beef, shares her story. From beginning in upstate New York to living on a commune in West Virginia, to owning an orchard with her husband in Morgan County, Ohio and every step in between.
Keywords
AFM, Athens Farmers Market, 50th Anniversary, Shew's Family Farm, Shew's Grassfed Beef, Marjie Shew, Pete Shew
Disciplines
Agriculture | Animal Sciences | Education | Outdoor Education | Plant Sciences | Social and Behavioral Sciences
Publication Date
Spring 4-19-2022
Interview Location
Stockport, Ohio
Digital Publisher
Ohio University Libraries
Document Type
Oral History
Creative Commons License


This work is licensed under a Creative Commons Attribution 4.0 International License.
Recommended Citation
Shew, Marjorie and Rock, Kassidy, "Shew Family Farms Shares Their Story In Honor of Athen's Farmers Market 50th Anniversary" (2022). Spring 2022 Oral Histories: Athens Farmers Market and The Ridges. 7.
https://ohioopen.library.ohio.edu/hc2905-oral-history/7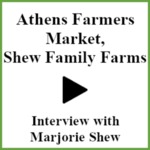 COinS