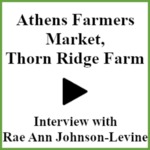 Interviewee
Rae Ann Johnson-Levine
Interviewer
Josie Donohue
Description
On March 24th, 2022, I sat down with Rae Ann Johnson-Levine of Thorn Ridge Farm and talked about her life and background growing up with agriculture and her business endeavors at the Athens Farmers Market in Athens, Ohio.
Rae has been a vendor at the market since 2000 and sells flowers with fresh cut bouquets with foraged elements, perennial, annual, house plants, and buckets of cut flowers. Rae vends from April to September each year.
Keywords
Flowers, Annuals, Perennials, SE Ohio History, Athens Farmers Market, Vendor, Wildflowers, Agriculture, Farmer, Forage
Publication Date
Spring 4-15-2022
Interview Location
Athens Local Library, Athens, Ohio
Digital Publisher
Ohio University Libraries
Document Type
Oral History
Creative Commons License


This work is licensed under a Creative Commons Attribution 4.0 International License.
Recommended Citation
Johnson-Levine, Rae Ann and Donohue, Josie, "Athens Farmers Market 50th Anniversary, Thorn Ridge Farm" (2022). Spring 2022 Oral Histories: Athens Farmers Market and The Ridges. 5.
https://ohioopen.library.ohio.edu/hc2905-oral-history/5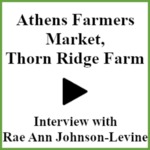 COinS